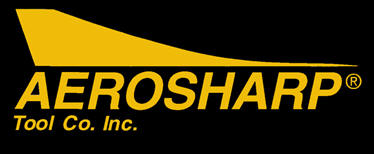 We offer many different types of special burrs, internal grinding burrs, routers, and seating cutters.
Send us your print or call us to ask if we can help with your tooling.
Email- aerosharp@aol.com
phone » 262 - 968 - 3128
fax » 262 - 968 - 4697
AEROSHARP® can provide you with Extra Long Shank Burrs for those "hard to reach" places.

1/8", 3/16", and 1/4" diameter solid carbide burrs are available in over all lengths up to 6". Our other burrs are available with 1/4" diameter, high speed steel shanks, up to 8" long.
3/8" and 1/2" diameter shanks up to 24" are available for some of our burrs. All of our shanks are made from extremely durable, 45 Rockwell C, High Speed Steel. We stock 1/4 x 6" and 1/4 x 8" shanks for quick deliveries. Contact us!

AEROSHARP® flexible shank burrs enable you to reach around corners!

Specially selected for proper stiffness, our flexible shank material is perfect for deburring and knocking out sand around corners and those "difficult-to- get-at" places.
The most common head shapes are the Ball (B-) and the Oval (E-) in 1/4", 5/16", and 3/8" diameter. 1/8" and 1/4" diameter flexible shanks with lengths between 6" - 12" are commonly supplied. Many other shapes and sizes available
On request, we can manufacture the carbide head with a special left hand spiral flute structure so the burr head won't have a tendency to screw itself into the part and twist off.

Other lengths and stiffness shanks are available.
Please contact us so that we may help you to choose the correct burr.